Industrial Geared Lathe Machine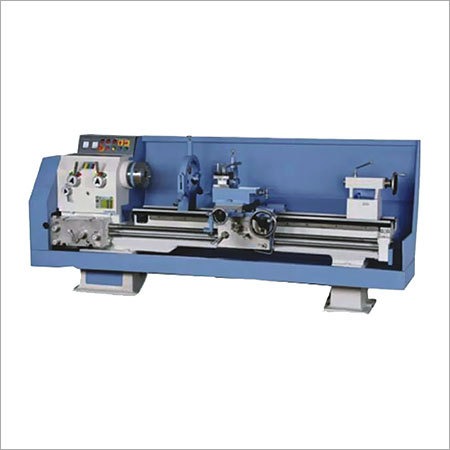 Industrial Geared Lathe Machine
Product Description
All Geared Lathe Machine
We are one of the eminent company, involved in offering a wide range of All Geared Lathe Machine. Manufactured to perfection, this machine is widely used in various industries for carrying out cutting, drilling and deformation operations. According to international quality standards and norms, our provided machine is provided to customers in different sizes, specifications and models at affordable prices. Also, we test these All Geared Lathe Machine on certain well-defined parameters to remove defects, if any.

Features:

Excellent performance
Easy installation
Low maintenance
Long shelf life
Technical Specification in mm
Perticular

250

Description

Height of Centre(mm)

250

Swing Over Bed (mm)

490

Swing Over Cross Slide (mm)

290

Distance Between Center (mm)

965mm

Max. Swing in Gap (mm)

770

BED

Bed Type

2 V & 2 Flat

Bed Width (mm)

325

Length of Gap in Front of Face Plate (mm)

240

HEAD STOCK

Number of Feeds

18

Spindel Speed Range : R.P.M.

32 TO 1650

Spindle Bore ( mm)

55

Spindle Taper Number

MT - 4

FEEDS AND THREADS

Number of Feeds

76

Range of longitudinal Feeds (mm/Rev)

0.026 to 0.936

Range of Cross Feeds (mm/rev)

0.016 to 0.62

Number of Threads

106

Range of Metric Threads/No.

0.2 to 7 mm (33)

Range of Inch Threads,No.

72 to 4 TPI (36)

Range of Module Threads/No.

0.3 to 3 Module (16)

Range of D.P. Threads/No.

44 to 8 D.P. (21)

Leed Screw Dia (mm)

38.1

Leed Screw Pitch (mm)

6 mm

SADDLE

Cross Slide Dimension (mm)

460 x 205

Cross Slide Travel (mm)

200

Compound Slide Traverse (mm)

150

TAIL STOCK

Spindle Dia (mm)

63.5

Spindle Taper Number

MT-4

Spindle Travel

175

Lateral Move to Tail Stock (mm)

5

MOTOR

Main MKotor (Kw.)

3
STANDARD ACCESSORIES
Four Position Tool Post, Toolpost Spanners, Center Adopter, 2 Nos. MT-3 Dead Centers, Electric Motor with Electrical Controls, Thread Dial Indicator, Camlock operating Handle, Chip Tray.
EXTRA ACCESSORIES
Collet attachment

Machine Lamp

Quick change Tool Post
Collet ( 1 mm to 25 mm ) each collet cost

Chuck Flange 8"

Coolant Pump & Fitting
Collet ( 4 mm to 40 mm ) each collet cost

Chuck Flange 10"

Carrier Plate
Taper Turning Attachment

Face plate ( 350 mm Dia )

Extra Center Height 2"
Rear Tool Post

Follow Rest

Digital Read out System (DRO)
Mechanical Brake

Steady Rest
Note :
All The above specifications are approximate and subject to change without prior notice as improvements are made from time to time.

The Description " standard accessories / features " confirms to its list not the photo of models shown in the catalogue.